Architecture, like any other art form, is subject to constant change. Many diverse architectural components and variants have changed dramatically in the last two decades. Traditional architecture is continually evolving and will continue to do so for some time to come, in terms of building usage and materials. Architecture and 3D visualization are heading into brand new territory with the advent of real-time rendering and virtual reality implementation. The buildings might start as a series of adjoining rectangular boxes, but over time evolved into highly detailed structures that seem like 3d renderings when looking at its pictures.
Designers are always seeking new ways to reimagine the modern skyscraper by making it higher and more cutting-edge. Each structure represents the progression of urban architecture, from the Art Deco movement at the turn of the twentieth century to more modern, neo-futuristic styles. Ultimately, California's skyline tells a distinct story of innovation and ambition, and these 12 stunning structures are no exception.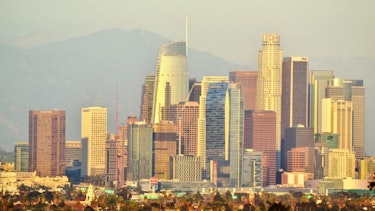 Wilshire Grand Center, Los Angeles
The Wilshire Grand Center is a new skyscraper that pierces the Los Angeles skyline, a sleek building that rises to over 1,100 feet. The tower's narrative lighting is intertwined into the architectural framework and can be seen for miles around Los Angeles.
Wilshire Grand Center rises proudly in the urban core where people meet, work, and stay. WGC is an iconic "skyrise" amid bustling downtown Los Angeles. WGC is more than merely an office building; it is the premier destination in Los Angeles, with one of the most innovative architectures and technology. Its futuristic style reflects the clouds and brilliant sky of sunny Los Angeles, and its stunning 360-degree views from the mountains to the sea are guaranteed to impress customers and guests.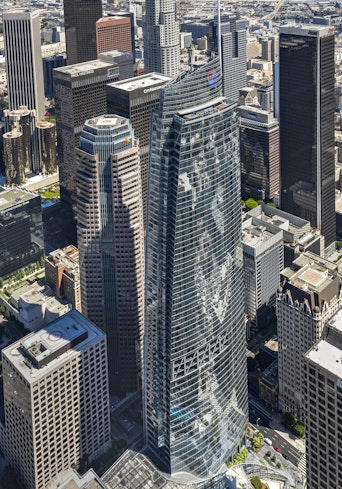 US Bank Tower, Los Angeles
The Library Tower, as it is often called, is located on West 5th Street in Los Angeles' commercial district. Built of glass and steel with a white granite curtain wall, its architecture of overlapping spirals and cubes make the building both circular and square.
A heliport — the world's tallest – is located on top of the skyscraper, in compliance with building requirements. The glass crown atop the tower is lit up at night, with different colors depending on the day, season, and even whenever the Los Angeles baseball or basketball team is playing in town.
You've likely seen the tower before since it's been featured in several films – it even has the distinction of being the first structure destroyed by aliens in "Independence Day"!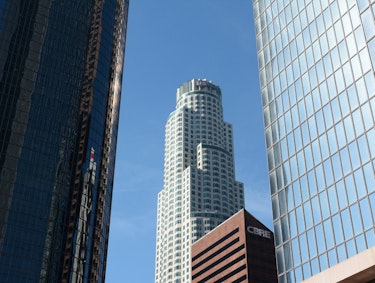 The US Bank Tower was designed by New York-based Pei Cobb Freed & Partners and completed in 1989, becoming the first supertall tower in the western United States.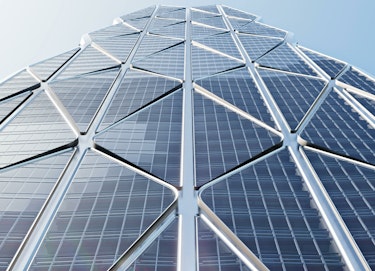 Oceanwide Center development, San Francisco
Two high-rise towers, as well as magnificent new public spaces and significant new pedestrian linkages around downtown, make up the two million square foot Oceanwide Center construction. The towers have a total area of 1.35 million square feet of office space and 650,000 square feet of residential space.
The development, which is significant in both urban and environmental terms, links together spaces to live and work with the city's most important new transportation hub, furthering the practice's long-standing paradigm of high-density, mixed-use development. The 605-foot residential tower has First Street frontage and reflects the size of San Francisco's existing tall structures, while the 910-foot hotel, residential, and office tower rises above it as a symbol of this new vertical city district — it will be the West Coast's highest residential project.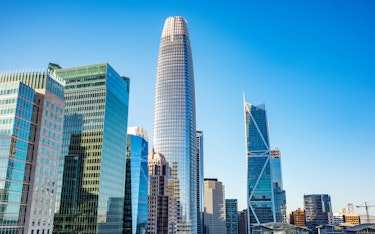 Salesforce Tower, San Francisco
Salesforce Tower is San Francisco's highest skyscraper, joining the Golden Gate Bridge and the Transamerica Building as a prominent feature of the city's skyline. The skyscraper and the Salesforce Transit Centre at its base were designed by Clarke Pelli, who won an international competition in 2007. The two structures together reflect an innovative approach to public-private partnership and urban sustainability.
The 61-story skyscraper features the obelisk's classic, ageless shape, giving it a narrow, tapering profile. With layers of beautiful curves and rounded glass corners that go beyond the top-level and appear to dissolve into the sky, the building's smooth, flowing shape conveys lightness and joy.
Mira Tower, San Francisco
MIRA, which is located at the intersection of Spear and Folsom, has innovative architecture, unique layouts, and wide vistas. MIRA has a twisting façade and luxury condominium residences that are innovative and forward-thinking, giving homeowners the chance to own a piece of San Francisco's architectural history.
Mira has a total of 392 apartment units, including two- and three-bedroom condominiums. The balconies are tucked into the building's spiral shape and scaled with glass railings. As a result, residents enjoy spectacular views of the City by the Bay.
The design answers San Francisco's requirement for dense housing while also offering new sustainable models and reinterpreting the city's architectural history.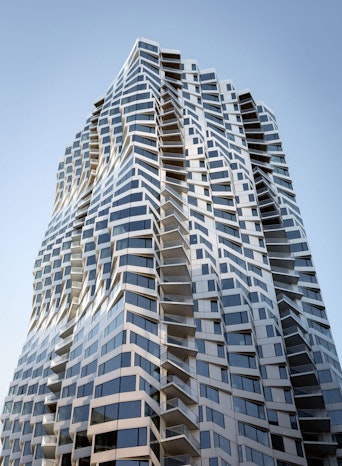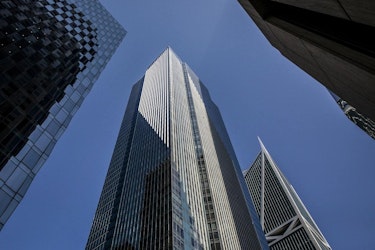 Millennium Tower, San Francisco
Millennium Tower is a 58-story, 196.6 m (645 ft) condominium skyscraper in San Francisco's South of Market area that was completed in 2009. It is a mixed-use, predominantly residential construction and the highest building in San Francisco. The tower is shaped like a clear crystal and serves as a landmark for the Transbay Redevelopment and San Francisco's southern skyline.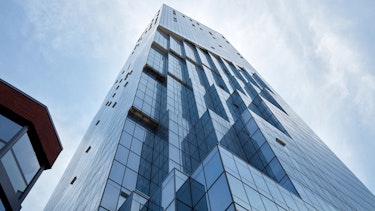 The Avery, San Francisco
OMA's project for The Avery, which includes a 576-foot tower and two podium structures, outlines a residential development with an urban gesture. Unlike most residential buildings, The Avery opens the site to the public by establishing a new lane connecting Folsom Street, the neighborhood's major thoroughfare, with Clementina, a more intimate pedestrian path. OMA employed a vibrant urban environment and breath-taking panoramas to create Avery's glass facade, resulting in a tower that embraces light and optimises views of San Francisco Bay, the Bay Bridge, and the famous city skyline from every home.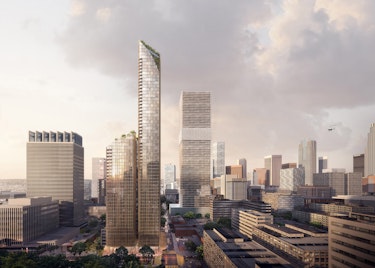 Sky Trees Tower, California
Seeking to stand out from the other skyscrapers in the district while considering its relationship to the human scale, the exterior design and color palette was reportedly inspired by California's iconic redwood trees. The glass and steel tower will rise to a sculpted rooftop with a 520-foot architectural height. The building's above-grade parking will be hidden behind a green wall, with open-air amenity terraces planned for the podium and top levels.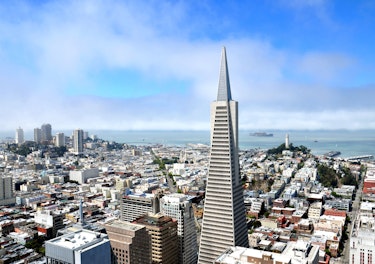 Transamerica Pyramid Building, San Francisco
In San Francisco, California, the Transamerica Pyramid Building has become something of a symbol for the city. The triangular-shaped skyscraper was the tallest structure in San Francisco for nearly half a century, until it was overtaken by Salesforce Tower in 2018. A group of buildings that resemble wings surrounds the pyramid. William Pereira & Associates developed the tapering "pyramid" shape to minimize the tower's silhouette and lessen the shadow thrown on neighboring streets.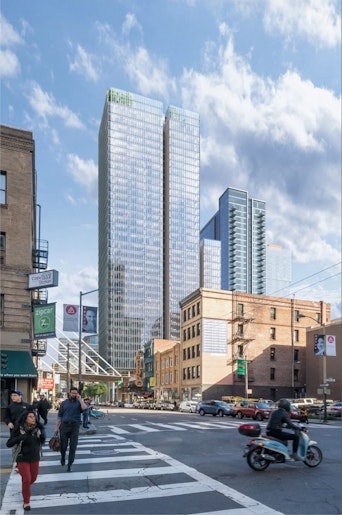 555 Howard, San Francisco
The 36-story tower, designed by Renzo Piano Building Workshop for developer Pacific Eagle, would have 69 residential units and 255 hotel rooms, as well as a public rooftop terrace.
The building has a glass exterior that enables light to permeate the street and neighboring public park and was designed with meticulous attention to detail and proportion.
A 210-room five-star hotel will occupy the first 20 stories, while 69 individual condominiums will occupy the top 16 floors.
Two California Plaza, Los Angeles
BOMA Building of the year 1997 & 2000. Standing tall at 52 stories on top of Bunker Hill, mechanically fastened Brazilian granite reflects a green hew upon the street below.
The radial cubic "keyholes" as well as the big format radiused polished panels in the vast foyer demonstrate precision fabrication.
The site is surrounded by stone pavers, which relate to the flow of material into the interior public areas.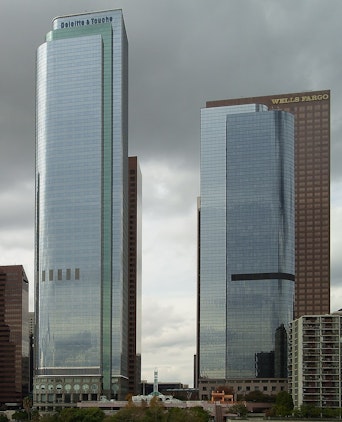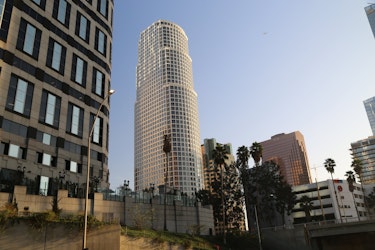 777 Tower, Los Angeles
Cesar Pelli designed the 777 Tower, a 52-story office tower with high-end finishes. A bright glass lobby with 30' ceilings, rose marble, and a beautifully manicured park-like plaza are among its attractions.
It is the city's seventh-tallest skyscraper and, by all rights, should appear to be a towering mass of a structure. Instead, it's a light and beautiful glass and off-white steel skyscraper that pierces the city skyline with subtly detailed articulation.
It exemplifies the Postmodern utilization of a stretched skin style with recreated classical features in a clean and simple design. The result is one of the most elegant high-rise office buildings in downtown Los Angeles.
We hope this article helps you identify and seek inspiration from the twelve buildings listed above spread across California that resembles 3D visualizations.