Architectural start-ups and small businesses account for the vast majority of architecture firms in the market, and standing out from the crowd and attracting new clients and projects has become increasingly difficult in such a competitive business landscape. Being a small architecture firm or a startup, on the other hand, means you can't afford to spend your whole marketing budget on social media.
Small and medium enterprises not only have limited marketing expenditures, but they also find it difficult to compete with larger fish since their brand name isn't well known. Fortunately, the image-driven world of social media provides some relief, allowing firms to develop more effective marketing tactics with a higher return on investment. 
Today's architecture is all about 3D architectural visualization because we live in an image-driven world. You can utilize architectural visualization to promote your firm on a budget with the full expansion of social media and other comparable platforms. One of the most efficient techniques to attract your users' attention and swiftly create your brand is through architectural visualization. With photorealistic architectural rendering, users can engage in an immersive experience by viewing lifelike furnishings, décor, textures, backgrounds, and human figures on landscapes, property exteriors and interiors, streets, parks, and gyms. Architects can use 3D rendering services to give life to their ideas to attract potential investors, and designers can use 3D rendering services to illustrate their project vision to potential clients, justifying project expenses and closing sales rapidly.
Here is a list of things to be kept in mind while thinking of social media marketing strategies to promote your architectural firm.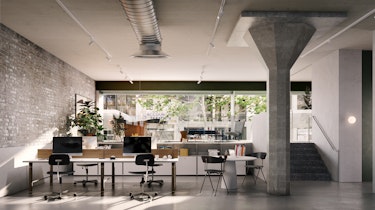 Use 3D visualizations to represent the firm
We can safely say that the only time marketing is successful is when your firm's reputation precedes it. A successful marketing campaign will not only establish your company as an expert but as a sought-after professional and thought leader in your field. Website is the most important part of a successful campaign. You can use this element the best by showing step-by-step 3D visualization of your projects. This will show off your expertise, experience, and skills. You can use photorealistic architectural rendering to bring your projects to life on your website in two ways. The first is using 3D renderings and including all the available information will help you showcase your development and work to prospects and clients. You should use 3D visualization to provide a clearer view of your projects to retain the audience's attention while also demonstrating their functionality and splendor. Your portfolio should have 3D renderings - imagine your portfolio as an architect's showcase with the most stunning and impeccable imagery. 3D renderings are much better than general photography.
Bold presentations are always welcome 
You can use the white paper as a report to get an overview of the proposed solution, the issues raised, and general topics. Doing so can help and educate prospects about why they are more interested, but most importantly, encourage them to explore your business further. If you can provide a white paper and request a newsletter subscription in return, you can create a mailing list much faster. Still, white papers are not as flashy as they are useful and educational. Therefore, prospects want more than anything else as visual proof of their skills, and you can make them more interesting by including photos and 3D architectural rendering.
3D rendered graphics for social media
We've previously discussed the significance of social media in your marketing efforts. The wonderful part about social media is that it allows you to take action that will pique people's curiosity. As a result, you can use social media to create a whole community of prospective clients and prospects, giving your company all the exposure and brand awareness, it needs to thrive.
This is especially true if you're talking to people who are already considering consulting an architect. That's when the 3D architectural renderings come into play. You'll want the best images possible since you'll be able to use them to better engage your potential customers. In this era of the internet, visual imagery attracts the crowd. As a result, posts that include images and videos are considerably more likely to generate customer involvement than ones that solely contain text. You're not only drawing targeted audiences, but you're also teaching and engaging them by publishing videos and photographs. Because all these social media outlets come with a lot of power, it's a power you can use to your benefit. 3D visualization, animation, and architectural illustration will help you attract new clients through a variety of social media sites that the majority of people use these days.
3D renderings add interest to your mailings
You may use social media marketing methods to engage with an audience once you've captured their interest. Since we just stated that text-only emails are insufficient to properly capture your potential prospects, they want clear proof, a demonstration of your knowledge and talents, which will undoubtedly motivate them to contact your organization. As a result, 3D rendering aids in showcasing your architectural skill in all its splendor, bringing in more clients.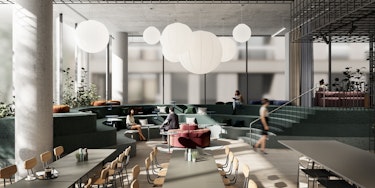 Use 3D visuals to increase lead generation
Trade exhibitions are a great place to start if you're looking for the most effective techniques to create more leads. These have shown to be effective in generating leads for a variety of company industries, so architecture isn't an exception.
It doesn't matter if you use 3D visualization on a widescreen or posters; they'll look great either way. The only thing that counts is that 3D visualization is extremely effective in grabbing people's attention. Architectural 3D animation, we can safely say, works like a charm in such instances.
Once your animation has grabbed visitors' curiosity, add 3D renderings to highlight both the interior and exterior to gain contact information. It's advised at this stage to create lavishly detailed architecture marketing brochures with 3D architectural rendering to enhance conversion rates and, eventually, generate more leads.
Use computer-generated images during architectural conferences
The architectural conference is a highly powerful marketing strategy as well as a networking tool. In this situation, these might substantially assist you in making the most of your marketing efforts thus far. Every single person who attends these conferences is a prospective client, and it is up to you to attract their attention, pique their interest, and persuade them to become your clients.
Taping a conference report and putting a video on your website, Facebook page, and YouTube channel is one of the finest social media strategies to make the most of these events. You'll have indisputable proof of your expertise this way. If your clients can see that you're a professional who is respected by others, they'll be significantly more inclined to acquire your services.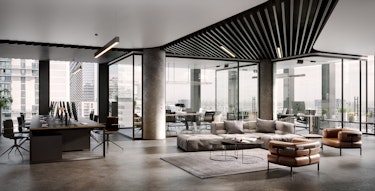 3D architectural visualization is quite important in architectural marketing. It's a guaranteed approach to acquire trustworthy partners, gain public and brand awareness, build your organization, and, lastly, extend your customer base if done correctly.
Use photorealistic 3D rendering to immerse potential clients in your project, with the primary purpose of presenting all the design's benefits. The most important aspect of your architectural narrative is 3D visualization, which is a certain approach to catch the attention of your target audience.
As a result, using high-end graphics in your marketing efforts elevates your architectural marketing strategy and increases your chances of success. When you're a new architecture business, it's critical to get results right away, and these seven stages should guide you through the process step by step.