The world of architecture has seen some astounding breakthroughs in recent years. Some of these breakthroughs come as a result of the help of 3D animators and architects. The 3D walkthrough and flythrough is one of the architectural technologies that revolutionized the field. They can highlight many aspects of an exterior or interior space, including the surfaces, textures, floors, roofing materials, and light fittings.
The use of advanced three-dimensional technologies has been very successful in convincing project stakeholders or prospective clients. There are some effective tools that can help you achieve this result. Flythroughs and walkthroughs - what it is, in what the difference between the two terms - let's understand step by step.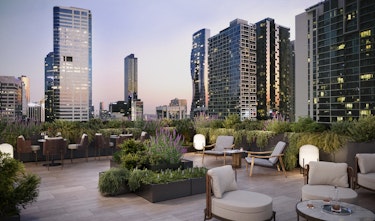 The terms "walkthrough" and "flythrough" are pretty straightforward. An observer walks or 'flies' through an architectural object.. This immersion could be useful to engineers, architects, designers, developers, and everyone involved in the property market at one stage or another. This presentation allows investors to see all the advantages of a project - what it looks like and how it will be integrated into the environment while still in development. The marketing campaign will allow the client to see the expected benefits while you can show them all the benefits of the concept or the existing building.

With an architectural walkthrough, an observer is able to see around the building (or any other object) at eye level of a hypothetical person, who is walking around it.  The rule applies to both the exterior and the interior spaces. If you want to see the roof of the house, the only possible view is from bottom to top - as if you were standing near the house. The same goes for the interior – you are walking through the rooms as an observer.
An architectural flythrough is not just about looking inside the object; it also takes into account its exterior appearance. By using flythrough animation, the client is able to obtain information about the house both - on the inside and from a distance. You'll be able to see the street, territory, and even district where the property is located. 
So, you may have a question, what will be the best between those two? 
Considering all aspects, I would suggest using the architectural walkthrough tour for the projects like hotels, restaurants, resorts, luxury homes, condominiums etc. With flythrough, you get a unique perspective covering aerial views of the exterior as well as interior spaces, along with special effects like zooms, tilts and camera angles panning that together creates the appearance of being looking at the world from a bird's eye view. 3D Flythrough is considered to be suitable for projects such as commercial properties, mixed development, and public projects.