It is a pleasure to see that the larger media outlets like Architizer open up to the ever more significant art of architecture visualization. The One Rendering Challenge 2022 focuses specifically on creating a powerful story about the architecture told with a single rendering. We sent an application with the project which presents our vision of the future in the living conditions of the mysterious planet of Mars. Our team is proud to be the finalists of The One Rendering Challenge 2022. It is a great achievement for us.
About our work "Mars, Colony III"
"Situated in the middle of Utopia Planitia, a broad plain in the northeast of Mars, Colony III was settled in 2040 and opened to intrepid visitors a few years later. It sits on top of a vast underground ice reserve which contains as much water as the entire Great Lakes system combined. Each structure of the Colony III resort that houses you during your stay is covered by state-of-the-art ceramic-graphene shields to provide the utmost safety from gamma rays while making your stay as comfortable as possible.
The true magic of Mars comes at sunset and midnight.
Describing the emotions you will feel on Mars is impossible. Visit Colony III and explore the universe in a way you've never before imagined."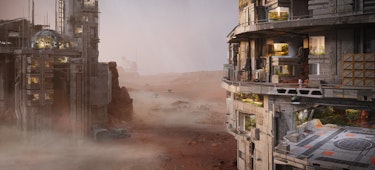 Mars, Colony III