Being recognized with accolades is a necessary stepping stone for many architects in order to obtain more prestigious commissions. And no prize is more prestigious than the Pritzker Architecture Prize, which is given every year. It is, in fact, comparable to the Nobel Prize in Literature in terms of architecture. The Pritzker Prize for Architecture 2022 has been given to Diébédo Francis Kéré, a 56-year-old architect. The architect, who was born in Burkina Faso, will receive $100,000 and a bronze medallion as part of this award.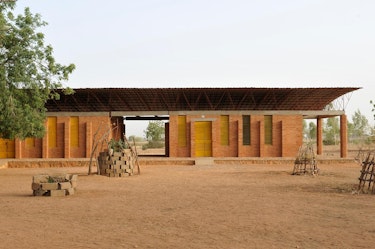 His Gando Primary School is an excellent example of his inspired approach to sustainable design
Since its conception in 1979, the Pritzker has been given to well-known celebrity "starchitects." Inrecent years, the panel of experts has shifted its focus to lesser-known practises around the world, socially conscious businesses that utilise design as a catalyst for good. (The committee's selection of Zaha Hadid in 2004, for example, poked fun at the criticism that architecture's highest prize was still an all-boys club.) With the nomination of Diébédo Francis Kéré, the Pritzker committee remains committed to that purpose, with a renewed focus on environmental and community sustainability.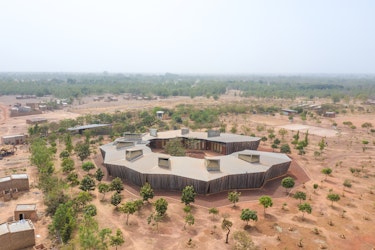 He designed the Lycée Schorge Secondary School in Burkina Faso
Kéré employs a huge number of Burkinabé locals with jobs in carpentry, welding, brick making, masonry, and painting, guaranteeing that the local community benefits as much as visitors from his initiatives. "Normally, nobody cares for public facilities here", Kéré told AD in 2014, referring to structures in his home country. "However, individuals are committed to these projects and feel a sense of attachment to them. And if something goes wrong, they can fix it." Kéré's work was commended by the Pritzker Prize panel for its clever use of local materials, site-specific approach, connection to nature, and support of marginalised groups.
Kéré was born in 1965 as the eldest son of the village head in Gando, Burkina Faso, where he grew up without electricity or access to safe drinking water. He moved away from home at an early age to become the family's lone student. Kéré relocated to Germany 20 years later, where he studied architecture at the Technical University of Berlin and graduated in 2004 with a bachelor's degree. After finishing his school, Kéré could have easily followed in the footsteps of many other architects and stayed in Europe to work on skyscrapers, museums, and other lucrative municipal structures. Kéré, on the other hand, took a different course. He returned to Burkina Faso, where he blossomed by giving much-needed infrastructure to his community. Following his success in his native country, the architect founded Kéré Architecture in Berlin and Burkina Faso in 2005.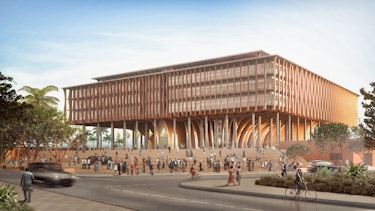 The National Assembly of Benin is one of two parliaments designed by Kéré
The Startup Lions Campus in Kenya (which was named an AD 2022 Works of Wonder) to a series of teacher housing units in Burkina Faso are among this year's laureates' designs. Kéré's use of local materials, particularly clay, which he utilised to build massive walls, is what connects these two works of art. In places of Africa where temperatures often exceed 100 degrees Fahrenheit, this ancient technology keeps interior climes cool. But the architect's success hasn't been limited to his native continent. Kéré designed the Serpentine Pavilion in London in 2017. Two years later, in rural Fishtail, Montana, the architect erected his first permanent construction in the Americas, a bundled pine log pavilion (made from dead trees). Architecture is rooted in place in Kéré's profession because people see themselves in the buildings they enter. Kéré, for example, asked residents to participate in every aspect of the construction process at the Gando Primary School in 2001. The final product was a stunning structure that the entire town could be proud of. Perhaps most crucially, the community now has a stable, well-ventilated room in which students can learn.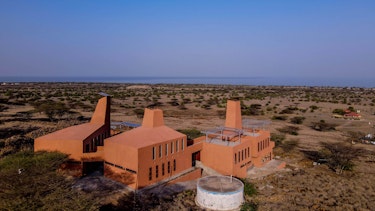 The Startup Lions Campus in Kenya (which was named an AD 2022 Works of Wonder) by Francis Kéré
Francis Kéré's art is, by its very nature and presence, a product of its surroundings. Kéré contributes to the debate by incorporating local, national, regional, and global dimensions in a very personal balance of grassroots experience, academic quality, low tech, high tech, and truly sophisticated multiculturalism in a world where architects are building projects in the most diverse contexts – not without controversies. In the Serpentine Pavilion, for example, he successfully converted a long-forgotten important emblem of primordial architecture worldwide: the tree, into a universal visual language and in a particularly effective way. In his acceptance of community participation, he has established a compassionate, bottom-up approach. Simultaneously, he has no qualms about combining the best form of top-down approach into his commitment to innovative architectural solutions. His simultaneous local and global vision extends well beyond aesthetics and good intentions, allowing him to blend the old and contemporary.
Francis Kéré's art also serves as a reminder of the need to reform unsustainable production and consumption patterns in order to provide adequate housing and infrastructure for billions of people in need. He poses basic problems about the meaning of construction permanence and durability in the face of ongoing technological development, as well as the usage and re-use of structures. Simultaneously, his modern humanism combines a great regard for history, tradition, precision, and written and unwritten laws.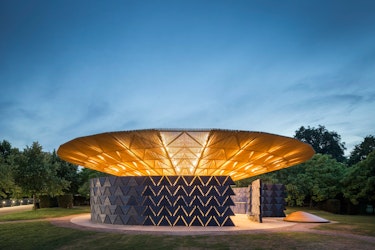 Serpentine Pavilion will be designed by Diébédo Francis Kéré (Kéré Architecture)
Kéré is the first African-born architect to get the top accolade in the field. He is a humanitarian, a man with a global architectural vocabulary who remains totally focused on the problems of his hometown community. Frank Gehry's most well-known works, such as the Bilbao Guggenheim, were completed a decade after his Pritzker Prize in 1989. As a result, the world is interested to witness how Diébédo Francis Kéré, the 2022 Pritzker Prize recipient, will continue to shape the built environment in the years ahead.