Large-scale environmental and social crises are currently affecting our society, particularly in the areas of climate, biodiversity, social trust, and democracy. There is a pressing need for action. State governments and large enterprises shouldn't, however, have exclusive control over establishing the guidelines for a sustainable society. Local activities, on the other hand, have a big impact on the ongoing transition, especially when it comes to making the changes just and socially acceptable. Thus, the built environment is a crucial foundation for the work of the progressive future.
Traditional methods of urban planning and design have very few tools at their disposal to address the systemic shift toward sustainable development. Rarely is new construction, even when it is well-realized, the optimal course of action. Instead, it's crucial to continue using current structures and metropolitan areas as long as possible. All structures should be viewed with fresh eyes and considered as potential sites for social and spatial innovation, in addition to painstaking maintenance and technical retrofitting.
Urbanization and the abandonment of rural communities are two trends that are on the rise. Urbanization's primary side effects are pollution, resource and energy consumption, rubbish dumps, and junkyards. These factors necessitate improved planning and design of European urban metropolitan areas, taking into account the advantages, possibilities, costs, and hazards associated with urban transitions as well as the resources available.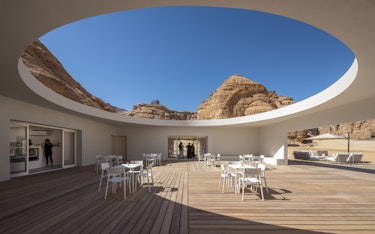 The Best City Model for the Future
Mainly, there are possible kinds of compact city, and more precisely:
1. Circular compact city 
The small circle city's major objective is to make use of its unique circular design, as all spots on the perimeter are equally far from the centre. A circular city's centre would primarily contain residential buildings (apartment dwellings and community housing). With dwelling units at the centre, inhabitants would have improved security and positive social relationships. The centre would be surrounded by infrastructure. Industrial structures should only be permitted on the uppermost levels (minimizing environmental pollution). Green parks would serve as the tops of buildings, and the city would be surrounded by rural countryside (without suburbs). Less traffic congestion in the city and effective public transportation are two of the circular compact city's main advantages. Its biggest drawback, despite the fact that a network of compact circular cities might be a solution to the urban expansion issue, is the lack of room for additional expansion.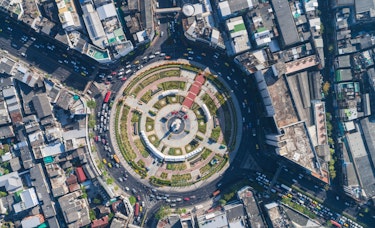 GreenBiz
2. Elevated city 
The preservation of natural landscapes is the elevated city's principal objective. To protect the environment, the natural environment would be increased. Utilizing recycled building materials, composting toilets, natural water purification systems, forests, plant life, and water-based ecosystems would be the primary guidelines. The elevated city would essentially be designed more as an ecosystem than as a place to live. By combining living spaces, workplaces, and commercial and industrial services into one upward-facing architectural building, nature's beauty would be preserved. The trumpet bell shape with exceptional compressive properties is the appropriate form for an elevated metropolis. Energy production in the city would be entirely self-sufficient and based on renewable resources.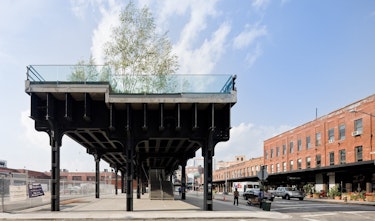 Architizer
3. Greenhouse city
The use of natural resources and forms to construct future homes is the primary objective of this metropolis. The concept behind the green house city is to only utilize wood to construct homes. The only form of transportation would be powered by biofuels. Coal, oil, and other natural resources would only be used sparingly and in limited quantities. Green houses have numerous benefits, but they would not be adaptive in climates where trees or wood are not readily available, and it is also required to take into account the short useful life of wood components. The green house city is a plausible probable paradigm for the cities of the future, even though the green houses might not be able to provide all the conveniences of flats.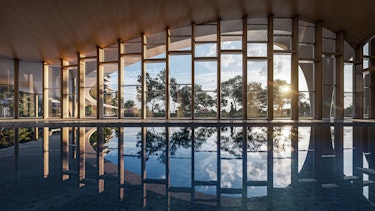 4. Water city 
This kind of city would include a complicated network of buildings in order to house a large population and ease pressure on the land. Buildings could be made of new synthetic materials to withstand the corrosive impacts of the hostile sea environment. This is a speculative rendering of a metropolis, and the Palm Island in Dubai's harbor may be considered a comparable building.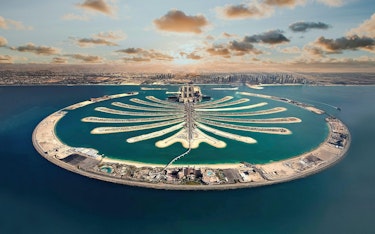 In addition to showing how to integrate current decision-making theories to make logical decisions while developing cities, this article aims to update urban design concepts in a comprehensive manner.
With these fundamental objectives in mind, the article highlights the potential future city planning scenarios while taking into account the varied needs and requirements of society, the environment, and geography.