We live in an amazing world where content surrounds us everywhere in all industries. Visual content dominates the digital world and its percentage is growing daily. According to research:
⬛️ 90% of the information sent to the brain is visual, and visual information is processed by the brain 60,000 times faster than text.
⬛️ 40% of people respond better to visual information than plain text.
⬛️ Video posts get 3x more inbound links than regular text posts.
⬛️ 85% of the US Internet audience watch videos online. The 25 to 34 age group watch the most online video, and adult men spend 40% more time watching online video than women do.
⬛️ According to Wistia, the number of online videos viewed per person per week has almost doubled since 2018. From 2021, this is 18 hours a week.
⬛️ According to the Compound Annual Growth Rate (CAGR), the visualization and 3D rendering software market size was valued at $1.67 billion in 2019 and is projected to reach $7.63 billion by 2027, growing at 22.62% from 2020 to 2027.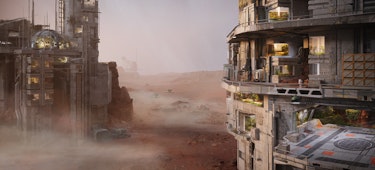 This data leads us to a simple thought — content is the prevailing element that any business needs today to promote their product and service. However, everyone understands this anyway, so businesses are fighting for a place in the minds of their customers with the quality of this content, creative ideas, immersive effects and emotions that they are trying to evoke in a person scrolling through the tape.
We at CUUB create visual communication and media content in the real estate market, creating still images, animatics and films for projects through which architects and developers win the hearts of their consumers. We draw inspiration and techniques from other creative industries and art forms, be it movies, car ads or fashion. It is important to always keep abreast of modern trends, both creative and technological, and today I would like to talk about the directions in the development of the 3D visualization industry that we focus on. There are quite a few of them, but I will highlight the key ones:
Storytelling
Admiration, empathy, immersion, inspiration — emotions are at the heart of most decisions made by people. Therefore, the basis of modern digital is content that can evoke these emotions in you. One of the ways is storytelling - after all, by telling a story, image or video, it finds identification in the head of its target audience, makes them feel a sense of belonging, a desire to be in that place or watch it with interest. The storytelling trend is not new, but it continues to live and will continue to grow. There is so much thought and aesthetics in the top visualizations that you want to look at it for a long time, peer into the details, as if in a picture in a museum, and still be mesmerized by its attraction. This effect of emotional immersion is even more pronounced in animated films, where storytelling is an integral part of the script.
For example, in our film for the MAB LOT project, on which we worked in a team with a studio that did the main shooting, creating the main outline of the story. It shows the atmosphere of the complex and life in it with indescribable accuracy, falling exactly into the target audience of the project. Such films, like an expensive perfume, envelop the client, helping him to feel life in the created space like a skin, much more expressively than standard animated videos with spans of architecture. Of course, these videos are more expensive, because this is a full-fledged film, with direction, sound script, filming and editing. But in the end, they pay off in full.
Metaverse, VR&AR
VR and AR technologies are also definitely not new and have been used in archviz for quite a long time. We create 3D tours, walkways, 360 renderings that help the client get into the project even before it is built. Developers and marketing agencies use this tool with might and main during presentations, however, it remains quite precise, most often remaining within the framework of 1 project or even 1 room. But what if we start creating entire worlds, in which the immersion will be much deeper and not only from a spatial point of view, but also with interaction with space. Metaverses and NFTs, terms that came literally out of nowhere, it would seem yesterday, now it is already a large fast-growing market that is firmly rooted in our reality. Or creating your own?
This year we have already been lucky enough to take part in the project of creating an NFT collection of resorts in unusual places, like the top of a volcano crater or the surface of the red planet. This amazing project has the goal of creating 50 of these resorts and then selling trips to them in the Metaverse. I think the theme of the Metaverse is only at the beginning of its development and further we will see even more incredible ideas where the use of skills in creating 3D models and spaces will find its application.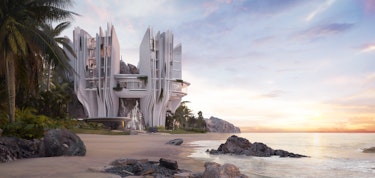 New technologies. The Unreal engine & blender
We tirelessly follow new technologies, trying to try all the latest in the industry. The Unreal engine on the one hand and Blender on the other become such for us. And although both technologies are not young and have existed for a very long time, in the world of archviz they are just beginning to form their market.
The Unreal engine is widely used in the gaming industry, automotive rendering, film and television content creation, real-time applications, and many other areas. In architectural visualization, it is used in the field of creating interactive presentation boards used by the developer to present the project, where you can rotate the object from different angles, change details, select finishes, weather, season, light, color and much more. In the Ikea application, wearing virtual reality glasses, you can walk around the kitchen, changing finishing materials, opening cabinets, that is, fully interacting with the space. The Unreal engine technology helps with this. At the same time, UE is not yet widely used in the production of static images, due to the peculiarities of the technology that currently do not allow creating images of the same level as is done in 3Ds Max + Corona render. We use The Unreal engine to produce animations, which are just as realistic as 3Ds Max, although they take longer to complete. However, the technology is developing incredibly fast, fans are waiting for each update, which gives the prospect of what is possible in a few years, The Unreal engine will be the main technology in which we will create static images and animations.
Unreal has a strong competitor in the archviz technology race with Blender, an open source 3D graphics toolkit that is already used to create animated films, visual effects, 3D printable models, motion graphics, interactive 3D applications, virtual reality and video games. And most importantly, it's free. I will not describe all the features of Blender, since they are almost limitless, I will only say that it is not very widespread in the archive yet, although it is already possible to create projects in it at almost the same level as 3Ds Max + Corona render if you tweak the process a bit. But, looking at the dynamics of the development of this technology over the past few years, we think that in the next 5 years there will be a global transition to this technology in the world of architectural visualization, for which we are actively preparing, studying all its possibilities.