Russia invaded Ukraine on February 24, 2022, sparking the greatest and fastest-growing refugee catastrophe in modern European history. Since the beginning of the war, approximately 6.5 million people have been displaced within Ukraine, with 3.4 million fleeing across international borders into neighboring countries, according to the United Nations Office for the Coordination of Humanitarian Affairs (UNOCHA). The humanitarian crisis brought the entire globe together in protest of military aggression against civilians, and it sparked an unparalleled worldwide outpouring of support for assistance initiatives. The architectural community has also spoken out in support of Ukraine, criticizing the conflict, suspending business in Russia, and employing Ukrainian creative experts.
The war in Ukraine continues and according to the United Nations, the number of refugees has climbed to 5 million. It is critical to respond to the critical need for social cohesion and to assist vulnerable people. CUUB Studio brings some brilliant examples of social infrastructure including modular housing that are expressly designed to serve displaced communities from around the world.
The Paper Partition System (PPS) in Ukraine
Shigeru Ban and the Voluntary Architects' Network, well-known for their humanitarian efforts, have been installing a paper partition system (PPS) for emergency shelter architecture in Ukraine and neighbouring countries, aimed to give Ukrainian refugees some privacy. Shigeru Ban Architects and VAN have been installing PPS across Poland, Slovakia, France, and Ukraine since early March, partnering with local architects and volunteer students. The Paper Partition System (PPS) is made up of an eight-tube framework with large drilled holes at the ends, which is joined by smaller tubes and cloth draped over the structure for seclusion and can be easily replicated in other areas.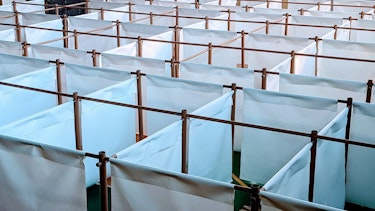 Za'atari Camp
Za'atari Camp, Jordan's largest Syrian refugee housing, was founded more than ten years ago. It was an opportunity for the Syrians to start a new life with over 18,000 children in school and 13,000 adults with work permits. Za'atari is a remarkable illustration of a city's past blooming and burgeoning without any external propelling force.
Simply told, it's a do-it-yourself city. With a population of over 80,000 people, some even call it home, despite their desire to leave. Barbershops, a pizza delivery service, an airport pickup service, kitchen appliance carts, and a variety of other utility stories are scattered throughout. There is hope, solidarity, and a sense of safety, just as there is in other huge refugee camps in Bangladesh, Somalia, northwest Kenya, and Sudan.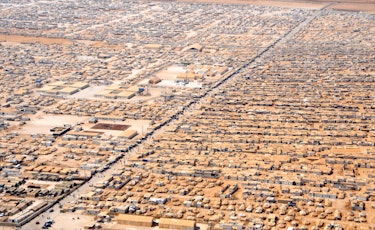 Shigeru Ban's Ongoing design – Kalobeyei
A plan for the Kalobeyei campground in Kenya was started by Shigeru Ban, a Japanese architect recognized for using unconventional materials to house disaster victims. He presented a concept for 20,000 houses in 2017 using low-cost and recyclable materials such as wood, mud bricks, paper tubes, and soil blocks. He then avoided using paper tubes, mud bricks, and soil blocks because they were not environmentally friendly and would be difficult to mass produce.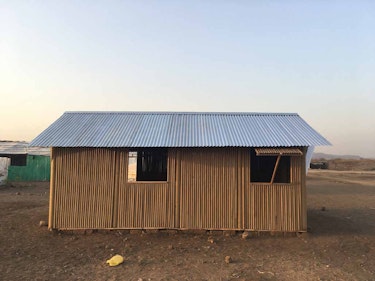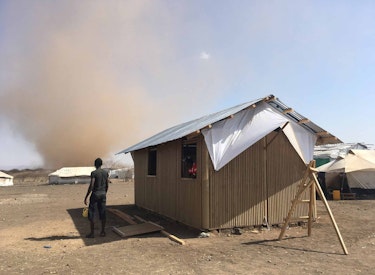 Balbek Bureau's Modular Village in Kyiv
A Kyiv-based architecture firm is creating a modular village to house individuals who have been displaced from their homes as a result of Ukraine's war. The town project is designed to be implemented fast and using whatever resources are available. The project is protected from the war's unpredictability and any supply-chain disruptions by having multiple material possibilities. Sleeping quarters, kitchens, baths, and even community recreational facilities can all be customised to suit varied requirements in everyday life.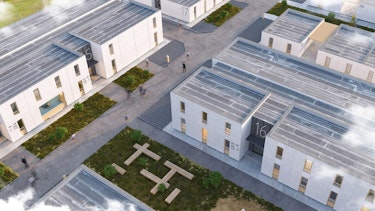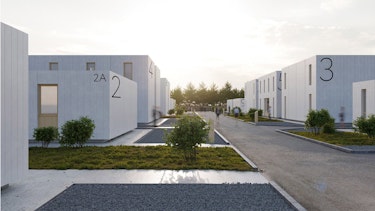 Syrian Refugee House Replica – IKEA
The Better Shelter, an IKEA prototype, was constructed and put in London by Design Museum in collaboration with UNHCR. The flat, easy-to-transport construction lasts longer than the commonly utilized tent form model. With ample space and privacy, the solar energy collected is useful at night. This prototype is now being tested in Ethiopia before being shipped to other countries.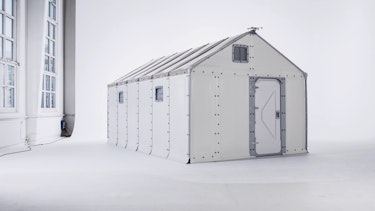 Refugees are people who have been uprooted and compelled to relocate to another country, where they are forced to live in a non-place, a transient circumstance, a third space that constantly questions their existence. After escaping dangerous situations, they see the other as a possible threat. How can we form social bonds with refugees in such circumstances? What role does architecture and design play in this? Those who have been displaced should be provided with places that allow them to reconstruct all aspects of their lives. Such houses should provide rich environments of everyday life. They must also provide opportunities for people to grow, be healthy, and learn. This would eventually encourage people to settle down and consider the larger picture that would make their lives better and even, normal.